MASS AND RECONCILIATION
SATURDAY
8:00 AM and 5:00 PM (Vigil Mass)

SUNDAY
7:30 AM, 10:30 AM and 5:00 PM
MONDAY - FRIDAY
7:00 AM
SACRAMENT OF RECONCILIATION
Saturday ~ 8:30 AM - 9:00 AM ~ in Church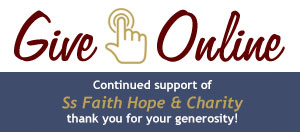 PARISH BULLETIN
August 7, 2022

Nineteenth Sunday in Ordinary TimeView Bulletin

July 31, 2022

Eighteenth Sunday in Ordinary TimeView Bulletin

July 24, 2022

Seventeenth Sunday in Ordinary TimeView Bulletin

July 17, 2022

Sixteenth Sunday in Ordinary TimeView Bulletin

July 10, 2022

Fifteenth Sunday in Ordinary TimeView Bulletin

July 3, 2022

Fourteenth Sunday in Ordinary TimeView Bulletin

June 26, 2022

Thirteenth Sunday in Ordinary TimeView Bulletin

June 19, 2022

The Most Holy Body and Blood of ChristView Bulletin

June 12, 2022

The Most Holy TrinityView Bulletin

June 5, 2022

Pentecost SundayView Bulletin

May 29, 2022

The Ascension of the LordView Bulletin

May 22, 2022

Sixth Sunday of EasterView Bulletin

PLEASE NOTE

Save For Later may not be available in all browsers due to your personal internet security settings. Right click the Save For Later link and then click 'Save target as...' or 'Save Link As...' to prompt the file download.

QUESTIONS?

If for some reason you are unable to view and/or print a copy of the bulletin, please contact the Parish Office by phone: (847) 446-7646 or email: parishoffice@faithhope.org to request a copy.

BULLETIN ADVERTISERS

Please contact Rob Sernus by phone: (800) 950-9952, Ext. 2532 or email: rsernus@4lpi.com.